A visa to live, work or visit in the UK can bring a huge amount of opportunities. It can be extremely disheartening, then, when a letter arrives to tell you that your application has been rejected. In these moments, the UK visa application process can feel both frustrating and confusing. 
Unfortunately, much of the information about applying for a visa makes it seem simple, but in reality, successfully receiving a visa comes with a host of complexities.
As a result, many people only realise they have not completed their application properly at the point of refusal. The question then becomes whether there is anything you can do after your visa is rejected.
We are going to help you answer that question, but before we do, it is worth noting that the information below only looks at the visa process in general.
If you have had a refusal letter, the steps you take may vary greatly depending on the type of visa you have applied for. Therefore, you should always seek advice from an experienced immigration solicitor about your case.
Common Reasons for Visa Refusal
Many of the frustrations that arise out of a visa refusal comes from a lack of clarity about why your application has been rejected. Therefore, your first step should always be to identify what went wrong so you can ensure it does not happen again.
In our experience, visa applications are most commonly rejected because they have not been completed correctly, resulting in one of the following issues:
Not supplying the correct documents: The documentation you have to provide when applying for a visa is extensive and varies depending on what visa you are applying for. A regular issue here can be proving you have enough funds for your stay, as well as the origin of those funds.
Not formatting documents correctly: Simply supplying the correct documents is not enough, you also need to ensure they are formatted properly. That may mean you need to place them in chronological order, or it could be something as seemingly insignificant as filling in a form with wrong colour ink.
Insufficient evidence of a relationship: This reason is specific to spouse visas but we see it enough that it is worth including. You need to prove that your relationship is genuine, using documentation that, for example, proves you live together, are married, or have children together.
Following inexperienced advice: No two visa applications are the same, so you should never complete your visa application following the advice of someone else unless that person is an experienced immigration solicitor.
Relying only on advice from the Home Office or UKVI: Like the point above, even the information you get from the Home Office or UKVI should not be relied upon solely. The call handlers are not legally trained, so if you have any questions you need to speak to someone who is.
Simply not meeting the requirements: The requirements for receiving a UK visa are strict, meaning there is no room to manoeuvre. For example, if the basic salary required for a spouse visa is £18,600 and the applicant only earns £18,500, a visa will not be granted.
Non-disclosure of information: Very little makes it past the Home Office, so if you have applied for a visa and not disclosed key information, such as a criminal conviction, it is more than likely your visa will be rejected.
Applying for the wrong visa: There are a high number of visa options, so it is not surprising that some visa applications are refused because the wrong visa was applied for.
What to Do After Being Refused
Appeal Against the Decision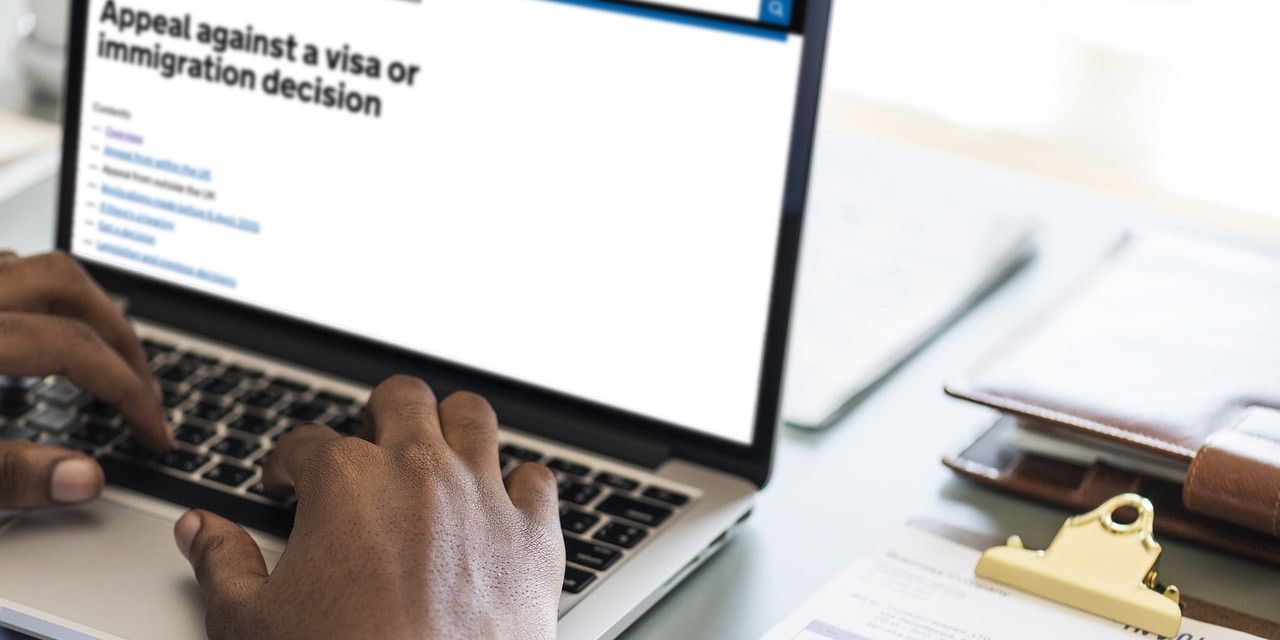 In some cases, you can appeal the decision to refuse your visa application. These reasons include:
A human rights or protection refusal
A decision to refuse a human rights claim for entry clearance
A decision by the Home Office to deport you as a European Economic Area (EEA) National
Your application for an EEA family permit as a family member of an EEA national was refused by the Home Office under the EEA Regulations
Certain decisions about applications submitted before 6 April 2015
As you can tell, the basis on which you can appeal a visa rejection are limited and you may be unsure whether one applies to your situation. For that reason, your refusal letter will inform you whether or not you have the right to appeal.
If you do have the right to appeal, this will need to be launched within 28 days of the decision. If you have to leave the country, you will have 28 days once you have left. If you have already missed the deadline, you can still appeal, though you will have to explain why it is late. A tribunal will then decide whether to hear your appeal.
In order to appeal, you will need to fill in a specific form depending on what visa you applied for, so you should seek advice from a solicitor in order to ensure your appeal is submitted properly.
As part of your appeal, you can submit supporting documentation alongside the paperwork you originally provided. You can then choose whether you want your appeal to be decided solely on this documentation or at a hearing that you and your legal representatives can attend.
Apply for an Administrative Review
If you can't appeal your visa refusal directly, you may be able to apply for an administrative review. This review is suitable if you suspect that there has been a case working error that resulted in your visa being rejected under the points-based system.
As the review is just of the administrative process, you can't submit further evidence to strengthen your visa application, the exception being if you are asked to by the Home Office.
There are three different forms of administrative review depending on where you made your visa application.
If you made your application from outside the UK you must be outside the UK when you make your administrative review application. You have 28 days from the refusal letter to apply and you should be given a copy of the form you need with your letter.
If you made your application from within the UK and have been given the right to an administrative review you have 14 days to make the application (or seven if you have been detained). You will not normally be removed from the UK until the administrative review is completed.
If your visa was cancelled at the border you have 28 days from the date of the decision letter or notice to leave. If you were allowed into the UK, you will not normally be removed until the administrative review is completed.
Apply for Judicial Review
If you are confident that your application was submitted correctly and therefore re-applying will not yield a different result, a judicial review can be the best option. This is the process by which the Judges of the Administrative Court, and the Upper Tribunal (Immigration and Asylum Chamber) (UT) review the lawfulness of a decision or action made by the UK Home Office.
What is important to note is that a judicial review is not a reconsideration of your application, it is only a consideration of whether the law has been applied correctly and the right procedures followed. As such, no new evidence can be submitted at this stage.
Judicial reviews can be complex and should not be pursued without help from a solicitor.
Reapply for Your Visa
Since the majority of visa refusals result from an incorrectly submitted application, often the best course of action is to just re-apply for the visa, a process that can be started as soon as you have been refused and any appeal is concluded.
Since your letter should state the reason for refusal, you should have a clear idea of what went wrong. In the event that you are still not sure, an experienced solicitor should be able to advise you on what you need to do differently.
Speak to a Solicitor
The process of applying for a UK visa can appear simple, but in reality, it is extremely complex. For that reason, many people have their visa rejected because they simply have not put the application together correctly, or with enough detail.
If you have just been refused a visa, you should seriously consider using an experienced solicitor for your next application. Rejections of visas remain on the Home Office database, and while this will not stop you from getting a visa the next time, the last thing you want is to be refused multiple times.
So, if you have just been rejected, speak to Nayyars Solicitors about how we can help you appeal the decision, apply for administrative or judicial review, or re-apply for the visa.